Welcome to the LEC Wood Badge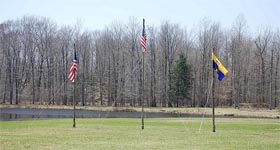 Welcome to the Lake Erie Council Wood Badge site. Our goal is to provide information for potential participants; to illustrate past courses through pictures and past editions of each courses' Gilwell Gazette, the course newspaper. We will also provide information and updates to the current course participants about their course. We will provide real time pictures during the course so family members at home can see what their loved ones are doing daily.
We will also provide information regarding other Wood Badge activities, updates from National and Regional Wood Badge offices, information about other courses offered in the Region.
Hopefully you will enjoy the site. This is a work in progress, so check back regularly. Please forward any comments you may have to info@woodbadgegcc.com
We created a document which provides participants a Wood Badge Course Overview. The document discusses the purpose, the objectives, and the skills taught during the course.
Download the Participant Course Overview Here
Our next course is to be held on April 21-23, 2017 and May 20-22, 2017. Scott Strawn is the Course Director. Join Scott and his outstanding staff for a mountain top experience.
Download the C4-440-17 Flyer Here
The Wood Badge The Wood Badge Hall of Fame is designed to recognize Scouters who have performed noteworthy service to Greater Cleveland Council Wood Badge. Here is a list of those Scouters already inducted into the Hall of Fame: WOOD BADGE HALL OF FAME 2016 If you wish to nominate a Scouter, please download the nomination form and submit per the instructions of the form.
Download Wood Badge Hall of Fame Nomination Form Here
Greater Cleveland Council Wood Badge created three committees. The Hall of Fame Committee will select the Wood Badge Hall of Fame inductees from nominations made on the form provided above. The Wood Badge / NYLT Breakfast Committee is tasked with organizing the annual scholarship breakfast. This is the major fund raiser for Wood Badge and NYLT scholarship fund. The final committee is the Wood Badge / NYLT Committee which is tasked with marketing, promotions, district organization, organizing and storing all our paraphernalia. If you are interested in participating on any of these committees, please complete the attached form and return it to the GCC Wood Badge Coordinator per the instructions on the form. Thank you.
Download the Wood Badge Committee Selection Request Form Here